I've been asked on a few occasions about how I came to create BE FREE YOGA, so here's a bit about my journey in the movement to end human trafficking thus far.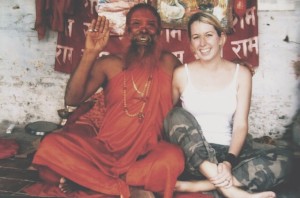 I first became aware of slavery on a trip to Thailand in 2000 when I picked up a book (the name of which I can't for the life of me remember) about sex trafficking in South East Asia. As I walked through the red light district of Phuket after reading the book, it became abundantly clear to me that most of the girls working were not there by choice. I found this reality heartbreaking and my fire to act as an advocate for these women was stoked.
In 2004, my eyes were opened even wider when I travelled to Kathmandu to work as a Journalist at Nepal's National Daily Newspaper, The Rising Nepal. I befriended a Photo Journalist who welcomed me into his home in a village on the outskirts of Kathmandu. He had a beautiful wife and two lovely children, a boy and a girl, but there was another boy that lived in the home with them and it was obvious he wasn't a family member. Unlike Rajesh's son, who looked well fed, wore decent clothing and attended school every day, this other boy, Rambo, was skinny, dressed in rags, and never left the house. He helped Rajesh's wife cook all the meals and clean the house.
When I asked Rajesh who the boy was and why was he not at school, Rajesh simply replied that he had done a local farmer a favor by taking the boy off his hands and providing him with food and shelter in return for help around the house. The exact age of Rambo I do not know (neither did Rajesh), but he looked about 9 years old and he was essentially a domestic slave.
Needless to say I was horrified and left Rajesh's home immediately to stay on my own in the city.  Regrettably however, I did nothing to help Rambo. Like a lot of westerners who travel to these parts of the world and witness this kind of human rights violations, I threw my hands up in the air and told myself "what could I do, this is just part of their culture, nothing I say or do is going to change anything".  Unfortunately, it's this kind of attitude that keeps slavery alive and thriving.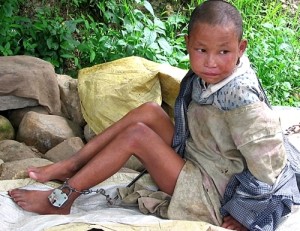 During my time at the paper, Rajesh had also photographed three girls, aged between four and ten, who were discovered in Bungamati after being chained up in thatched huts for over a year.  The man who had kept the girls was arrested, and faced a mere one year jail sentence and a further 10 years if medical tests revealed that the girls were sexually abused.  I never heard anything more about those girls, but their images have stayed with me always.
I was also informed by a local activist about a village in Nepal where all the women were born into sex slavery. It become abundantly clear to me, slavery was rife in Nepal, and in fact most of the world.
For a long time, I wanted to do something to help end slavery, but had no idea where to start. Anytime I even started to think about it, I'd just feel so overwhelmed and paralysed by the problem.
I volunteered on the odd occasion for various human rights organizations and about four years ago organized a screening of Justin Dillion's film 'Call & Response' to raise awareness about human trafficking in my local community. I was put in touch with Stephanie Lorenzo at Project Futures to help with the PR for this campaign and she sent me Somaly Mam's book, The Road of Lost Innocence. I was incredibly inspired by Somaly's story about her life as a sex slavery survivor in Cambodia and her work rescuing young women and children from the brothels in Cambodia. I felt such a strong pull to help Somaly and the girls at AFESIP (the shelters she helped build for survivors of trafficking).
Even though there has been a lot of controversy surrounding Somaly and the legitimacy of her back story over the past few months, I still admire her so much for the work she has done. Somaly has shone such a bright light on sex trafficking and inspired so many people to take action, including both myself and Stephanie Lorenzo from Project Futures.
I told Stephanie that I wanted to help raise funds for Project Futures by doing a DIY event, but it took me over four years to get my act together and organize something.
After the birth of my second child Ari, I started to deepen my yoga practice, which led me to the idea of BE FREE YOGA. Yoga has helped me so much during my struggles as a mum and it has also helped me to see very clearly how I could apply my skills and my passion to contribute to this plight. I did my Level 1 Yoga Teacher Training with Michelle Merrifield at Essence of Living with the intention of taking Trauma Sensitive yoga to survivors of sex trafficking at rehabilitation centres around the world.
I wanted to create an organisation that would provide a platform to empower other like minded individuals to take action and contribute in some way. The yoga community is such a compassionate, loving and interconnected group of people, one that I felt was being under utilized in this effort to combat human trafficking. Hence BE FREE YOGA was born.
In the last month alone, we have had 17 beautiful yoginis from around the world come on board as Be Free Yoga Ambassadors holding regular 'practice for freedom' classes to raise awareness and funds for our partners Project Futures and Free To Shine.
It feels good to finally be in my flow, following my own rhythm, doing what my heart has always told me to do. If you feel this way, join our movement and contact us today about 'teaching for freedom'.
If you ever see anything that doesn't sit quite right with you, no matter where in the world you are, if it is within your power to do something, then just do it and don't just write it off as a cultural norm. Genital mutilation, child marriage, honour killings, child rape and slavery are all culturally acceptable in many parts of the world, but that certainly doesn't make them alright.
As Edmund Burke once said, "all that is necessary for the triumph of evil is that good men do nothing".